155 mm SpGH ZUZANA 2 is aself-propelled autonomous artillery system with automatic loading of ammunition which is capable to provide effective fire by both direct and indirect aiming.
It features with a long range of fire, considerable effect of ammunition in a target, high accuracy of fire, high rate of fire, fast preparation for fire and high manoeuvrability. Protection of crew against effects of mass destruction weapons and a large number of ammunition carried directly in the weapon belong to its advantages.
Electronic equipment, diagnostics and automation of operations during loading and firing rank this weapon among the most advanced weapon system in the world.
Indirect fire using automated command, reconnaissance and fire control systems with an option to use Multiple Round Simultaneous Impact (MRSI) mode of fire is a basic mode of fire.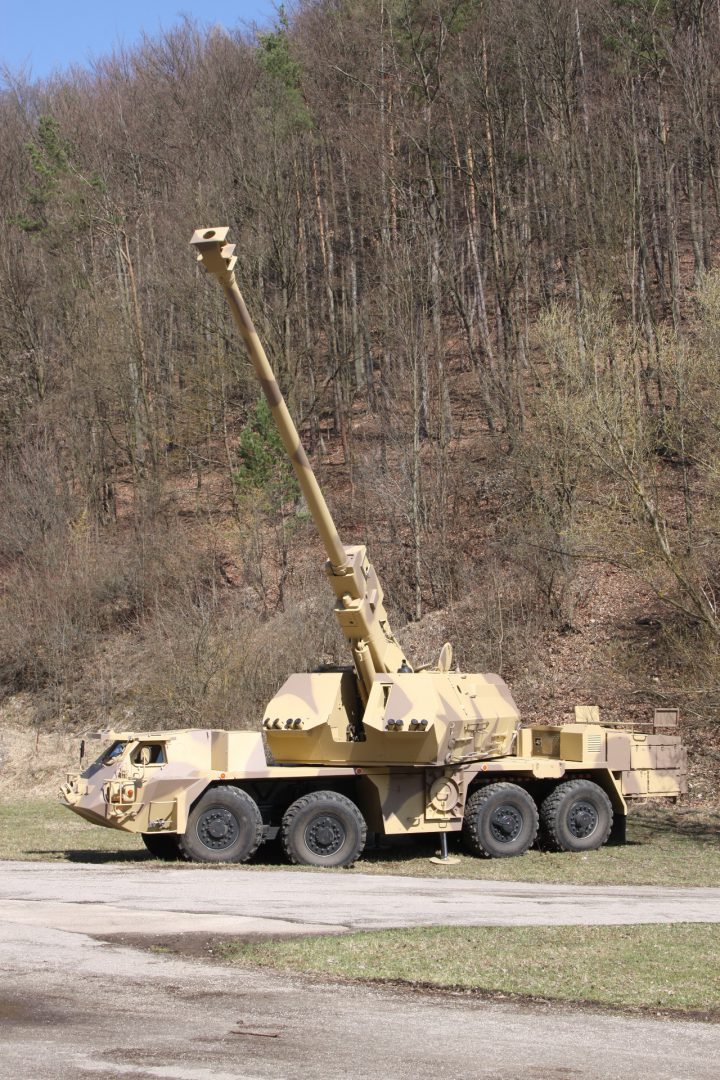 The self-propelled gun howitzer is intended to:
neutralize and destroy tactical reserves and closer operational echelons
neutralize and destroy tactical equipment and artillery
to neutralise and destroy enemy's live force and fire complexes
to destroy and neutralise enemy's command posts, radio communication equipment and rear area equipment
to pull down permanent defence structures and field defence objects by fire both from sheltered posts and indirect fire
to destroy tanks and armoured carriers by direct fire
The 155mm ZUZANA 2 SpGH consists of a chassis and a weapon superstructure.
The chassis is based on a four-axle TATRA vehicle chassis, with a simple installation of wheels. To make crossing of soft terrain easier, the chassis is equipped with Central Tire Inflation System allowing the driver to change tire pressure while driving. The gun howitzer can ford up to depth of 1,2 m. The driver has a passive night vision system for driving at night.
The weapon is stabilised in a fire post with weapon supports fitted to the chassis. The weapon is equipped with the inertial navigation equipment and muzzle velocity radar.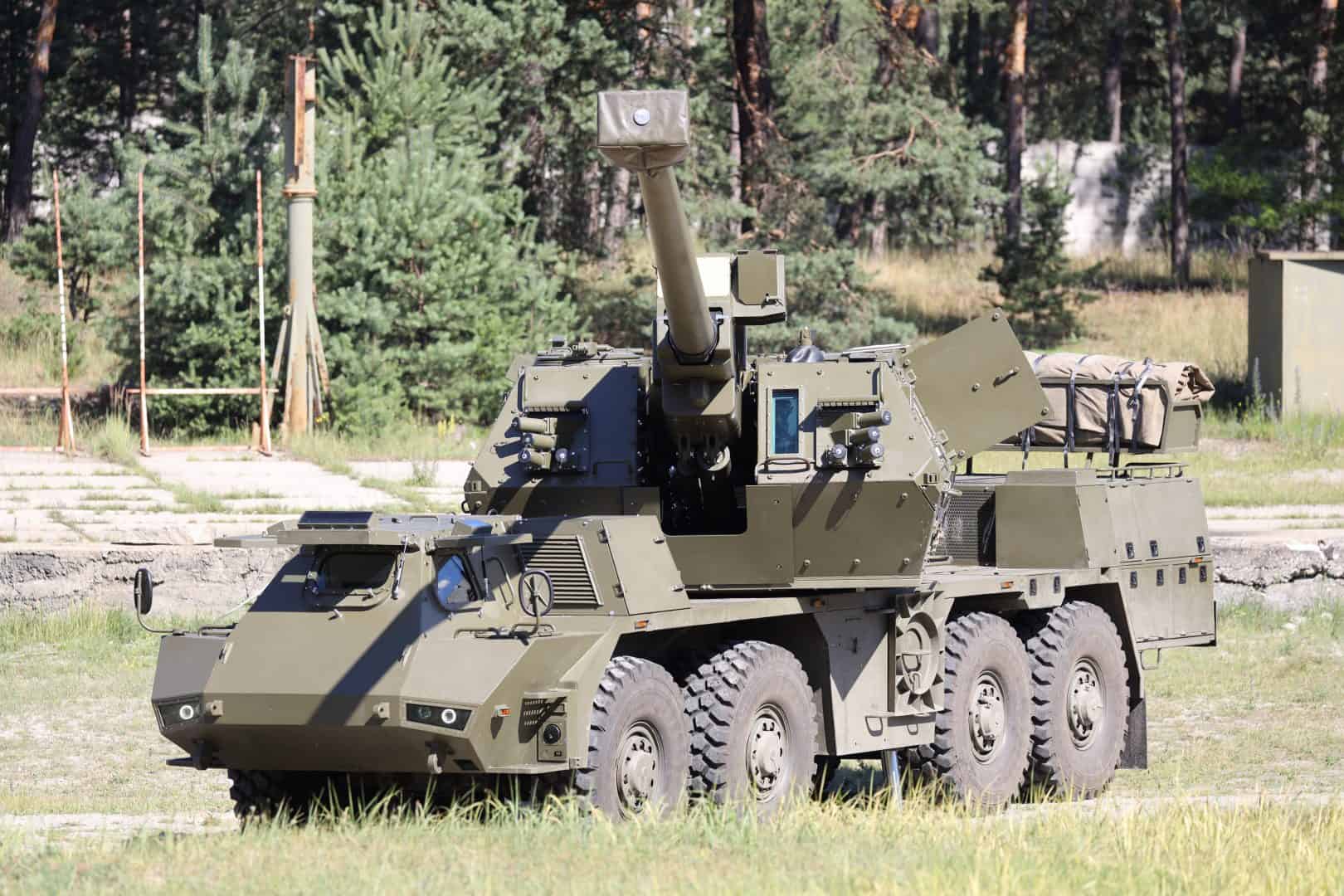 The weapon superstructure consists of a barrel with an auto-loader and other gun mechanisms installed in a rotating turret. The turret can move ±360° in azimuth, fire can be done within the azimuth range ± 60°.
The barrel is loaded with projectiles and charges automatically, using an auto-loader within a full range of azimuth and elevation. The auto-loader takes projectiles and cases with charges out from conveyors and moves them into a barrel axis. A loading mechanism rams projectiles and inserts charges into the barrel. The auto-loader is a mechanical and hydraulic system, controlled by electric controls. Fire can be done by bursts of rounds or by firing single rounds. The weapon is equipped with additional optical sight for manual aiming. The ammunition is stored in the conveyers which are capable to carry 40 projectiles and 40 powder charges ready to fire. Beds in the conveyers are universal for all the projectiles and powder charges used in the service. It is possible to store new types of projectiles of the length up to 1000 mm in the projectile conveyer and load them by means of automatic loading mechanism.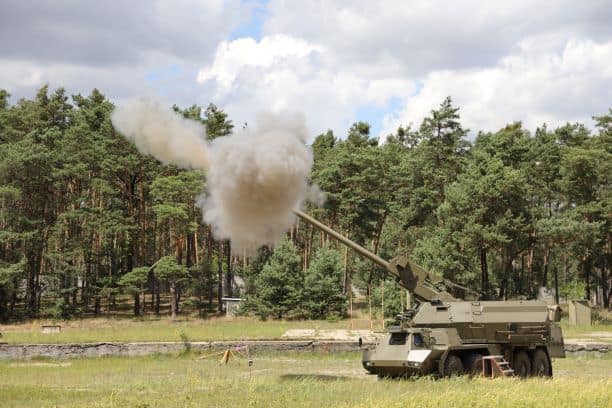 If the auto-loader fails, the weapon can be loaded manually. Elevation and traverse are adjusted using hydraulic drives. The 155mm SPGH ZUZANA 2 is fitted with aiming equipment for both direct and indirect fire. The navigation and positioning system together with the FCS (Fire Control System) are main aiming systems for indirect fire; a thermal camera system is used for direct fire. The PAZ-2001 aiming device with the PP-81MN telescope is used as an emergency system for both direct and indirect fire. Fire control system allows working with digital maps.
The power supply unit which provides electric and hydraulic energy for the drive of the turret aggregates and partially for the chassis aggregates without the need to run the chassis engine is placed between turrets in the rear.
The turrets are armoured. The gun howitzer is fitted with an efficient filtering, ventilation and air-conditioning equipment distributing air into all cabins for operation in a contaminated area. Cabins provide protection against small arms, grenade and mine fragments, and effects of mass destruction weapons for the crew. The cabins also protect the crew against gas pressure from the barrel during fire at low elevations.
The 155mm ZUZANA 2 SpGH is equipped with M2HB-QCB Browning 0.50 inch machine gun for air defense and direct protection. Alternatively the NSV 12.7 mm machine gun can be used. To protect against armor technology threat there is the RPG-75 AT carried in the weapon.
The crew consists of four members located in three cabins during fire (driver is seated in the driver's cabin, gun commander and the charge operator are in the LH turret cabin, projectile operator is in the RH turret cabin).