The mortar is designed to silence and destroy the enemy's live force, equipment and fireplaces deployed in terrain, in trenches and light-type shelters, especially in mountainous and wooded terrain, in cities and in area built- up by buildings. It is also used for the wading of trenches, light wooden constructions and for creating crossings in wire barriers.
Major parts of the mortar: barrel, bi-pod, base plate, sights, chasis
Crew consists of: commander, sight operator, charge operator
81 MM LIGHT TOWED MORTAR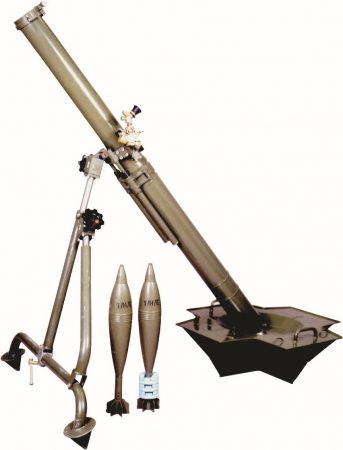 MIN 81 Mortar with 81mm HE mortar bomb can operate in the firing range from 100 m to 6700 m. The low weight of the mortar allows it to be transported on carriers by 3 members of crew. For transport over longer distances, the mortar is situated on a two-wheeled chassis that can be pulled behind a light off-road vehicle or carried on a medium off-road vehicle along with ammunition.
Its low weight and compactness increases its mobility in the terrain and allows rapid change of firing position only by crew members. For use at night and in limited visibility, the mortar is equipped with a lighting set for sight and crew.
98 MM LIGHT TOWED MORTAR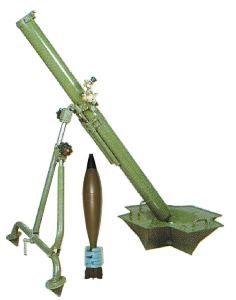 The mortar is designed to be used in forested and mountainous terrain as well as urban areas. The mortar features excellent range and efficiency in a target area. It is transported using a specially designed single axle trailer fitted with mortar bombs containers and 1:1 spare parts sets.
120 MM VEHICLE-TOWED MORTAR PRAM/L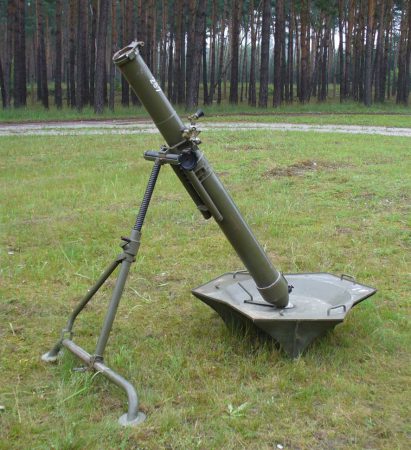 Is designed to render to harmless and destroy people, enemy firing facilities, anti-tank weapons, light armored hardware, light shelters and to create passage-ways in barricades and minefields. The mortar is operated by three men, transported by a goods vehicle.